Gin, Tonic & Tobacco - A Pairing Guide - Part One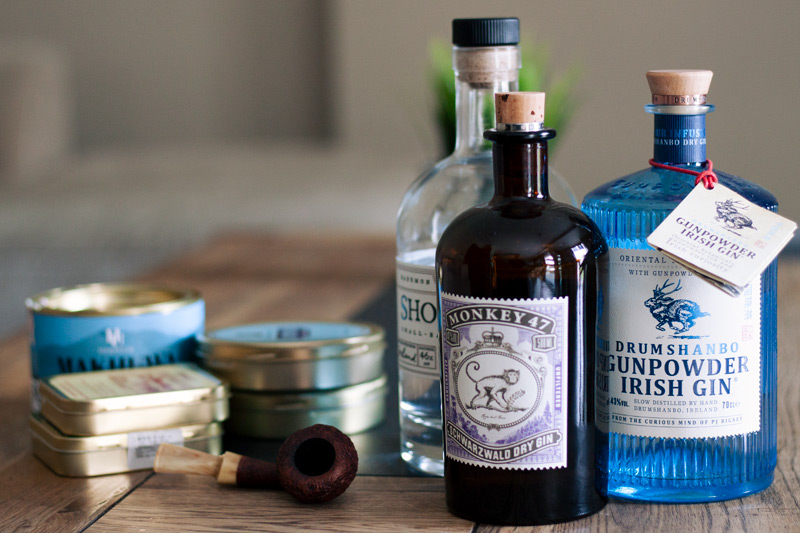 To my mind certain alcoholic beverages have links to certain countries. When I think of Scotland, for example, I think of Scotch whisky; with France I think of wine; Italy and grappa (but also wine); Belgium and beer, etc. Even when I think of my native Australia, the first drinks to come to mind are beer and wine, and at a stretch a certain brand of rum. Imagine my surprise, then, when I arrived in Ireland expecting to find little else but whiskey and beer being produced locally, and instead found a growing movement of gin distillers, those creators of a spirit I'd more often associated with across the Irish Sea.
Of course, once I did a little digging I found the fault was entirely with my own assumptions. Ireland not only has an historic claim to gin as we know it — via the creation of the column still that's still being used today — but has been enjoying the juniper infused spirit for just as long as the English. In fact, many of the spices used as botanicals in Irish gin were imported via the Blackwater River, the same river used by one Sir Walter Raleigh to import tobacco.
So, with any preconceptions of gin both produced and enjoyed in Ireland blown clear out of the water, I set to the task of trying some of the more notable labels, figuring out how best to enjoy them in my cocktail of choice — the gin and tonic — and what to pair them with.
Drumshanbo Gunpowder Irish Gin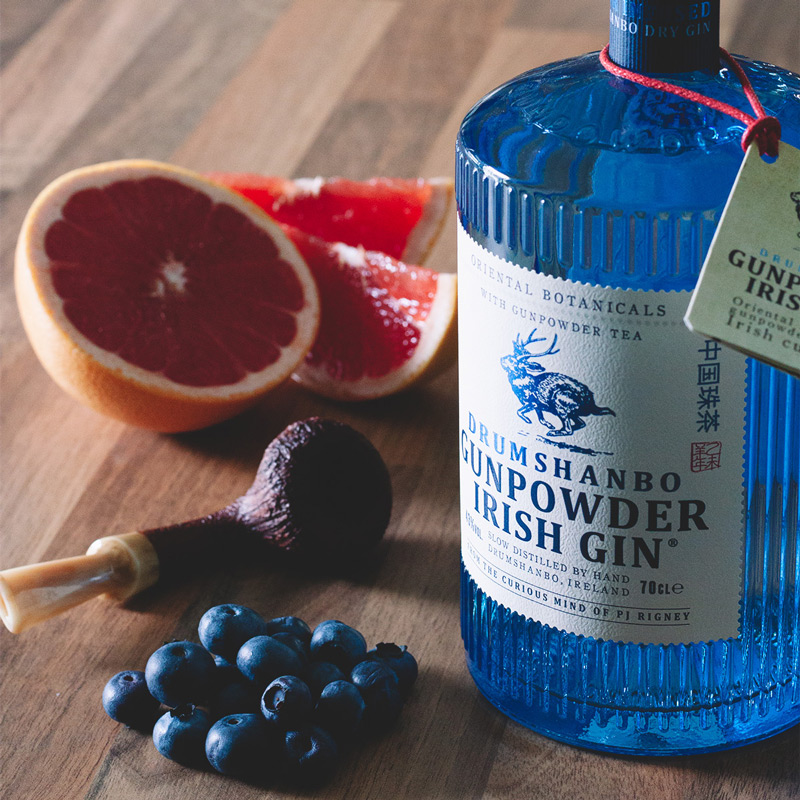 From The Shed Distillery in Drumshanbo, Co. Leitrim, this gin features some of the more regular botanicals (juniper of course, cardamom, coriander seed, star anise, and citruses by way of lemon, lime, and grapefruit), but also some more unusual inclusions — i.e. meadowsweet (an herb found in moist, boggy meadows that has a subtle almond flavour) and gunpowder green tea.
On balance I'd say that this is a well rounded gin, though it's the heavier citrus notes that are most prominent, especially the grapefruit, with the juniper coming in close second. Perhaps more surprisingly, though, is how much the other botanicals actually come through, specifically the subtle almond notes of the meadowsweet, the smokiness of the gunpowder tea, and the spicy tartness of the coriander. That being said, I will reiterate that the grapefruit is very much forward throughout, so if it's not your thing, perhaps move on.
I started out simple with premium tonic water — Fever Tree — and a small lemon wedge, but found it to be a touch too subtle, so worked up to a premium tonic water, a rather large slice of grapefruit (because why not lean into it, I guess), and few fresh raspberries. A Mediterranean or Elderflower tonic could also work here, though I found a change in garnish was all I really needed. As for a pairing, I found a nice, stout chocolatey Burley — like Amphora Original — was just the ticket, with the cocoa notes rounding the grapefruit nicely, though Samuel Gawith's Mayor's Chocolate would also work well in the colder months. Personally I'd probably avoid a Virginia or Virginia-Perique, as the spice from both is most likely to just bounce off of each other until they reach critical mass in an echo chamber of tongue bite (but that's just me).
Rademon Estate's Shortcross Gin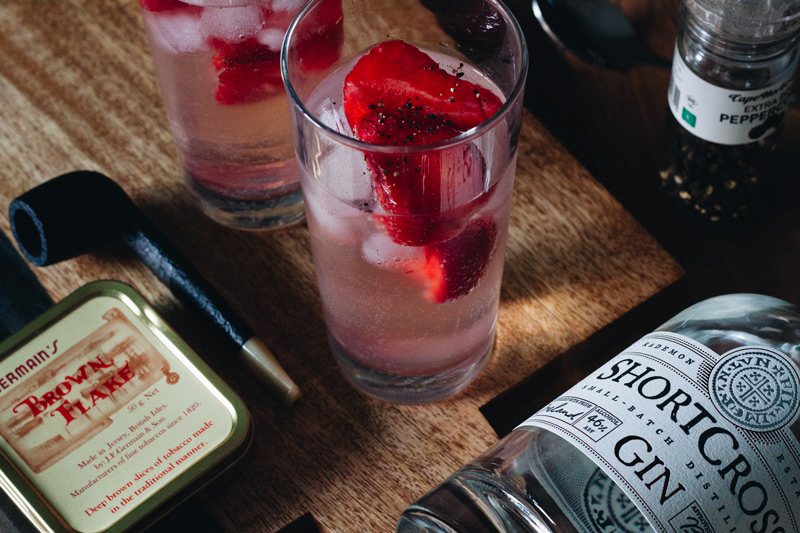 From Northern Ireland's first award winning craft distillery, Shortcross is a craft distilled London Dry style gin using botanicals such as locally sourced wild clover, elderflowers, elderberries, and apples, plus some of the more usual suspects like juniper, coriander seeds, cassia, and citruses like lemon and orange peel.
If you enjoy your gin straight up and served in china teacup, Shortcross is going to be right up your alley, as most of the subtler botanicals are more prominent undiluted. If, like me, you do prefer the addition of some tonic water, you'll find less is more here, as the moment I added it I noticed that the peppery, fruity crispness gave way to a slightly floral sweetness. Not bad, by any account, but anything more than a plain tonic water and a very gentle twist of lemon will quickly overpower the unique palate that Shortcross has to offer.
With its subtleness already noted, the choices in tobacco pairing are somewhat limited here. An Aromatic, English, or even Virginia-Perique are simply going to be too loud. I went with Dunhill Flake, but I suspect that Orlik Golden Sliced or Capstan Yellow would also work well here.
Monkey 47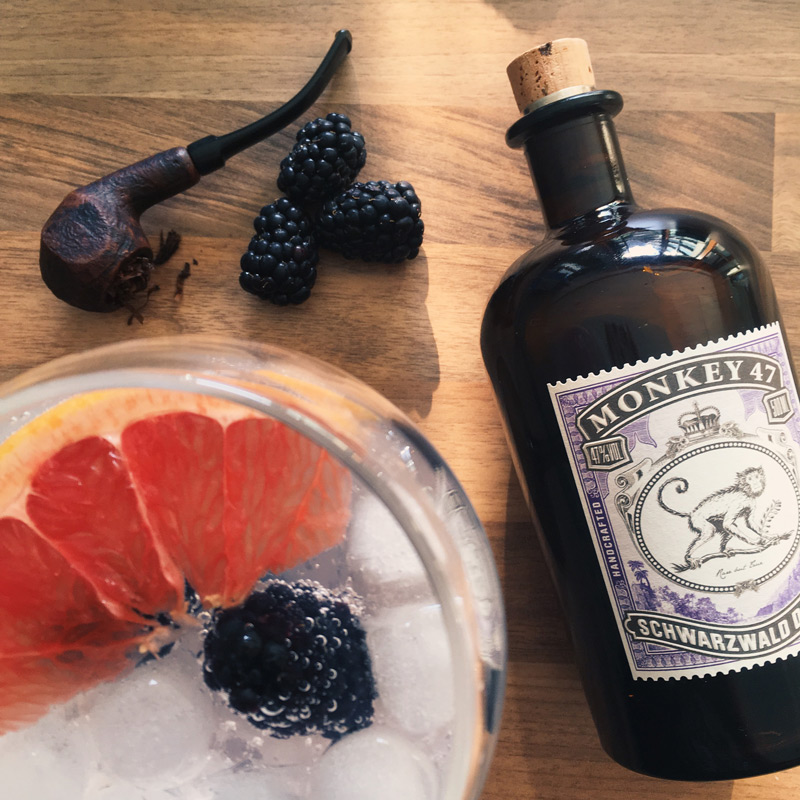 Okay, so it's not an Irish gin — hailing as it does from Germany's Black Forest — so just consider this "Schwarzwald" Dry gin a bonus of sorts. I've also been wanting to try this one for a while, and my local off license was having a sale, so you'll just have to forgive me this once.
So I guess the first thing to note is that the Black Forest isn't exactly known for its gins, being an area that usually produces fruit-based liquors and brandies. But really that's part of the appeal here, as alongside a whole host of botanicals — 47 of them, to be exact — are a number of locally sourced berries (lingonberries, elderberries, cranberries, blackberries, and hawthorn berries) that provide a heavy fruit sweetness that's only barely restrained by herbs, spices, and some particularly bitter citruses.
As far as both garnishes and pairings go, pretty much anything you throw at this should be fine, though something too subtle will simply be outgunned. Personally I leant in and matched it with an Elderflower tonic, a giant wedge of grapefruit, and three particularly large blackberries, paired with one of my favourite blends — Samuel Gawith's Grousemoore — whose strong lemongrass flavour was a strong match for the Monkey 47.
Got any thoughts on the gins above? Have a different pairing suggestion? Let us know in the comments below.