Lighters: Kiribi Kabuto Mizo Silver
Product Number: 001-160-0007
Along with the katana, the kabuto (winged battle helm) boasts an integral association with the pre-Meiji Restoration samurai class. While the inspiration for the Kiribi shapes all hail directly from the zenith of Art Deco, the Kabuto also incorporates an homage to this tradition within the gesture of the wing-like cap toggle — a direct reference to the fukigaeshi (crescent like wings on the side of the kabuto)
Though distinctly retro-chic on the outside, your new Kabuto sports a state-of-the-art modernist design, technology, and cutting-edge innovations within. It features:
new dual flame design that offers a wider and more gentle light for your pipe
hinge spring made of a special polymer that is far more resilient to fatigue than steel
single tank construction of amazing fuel capacity
100% hand assembled in Japan
sturdy brass, steel, and nickel construction
While the original Kiribi Kabuto was available in only a red sateen, sophisticated silver satin, a modernist black nickel, or an understated black matte, in 2015 Kiribi released four new finishes: the black leather-wrapped Kuroi, and the white leather-enveloped Shiroi, the Mizo Black Matte, and the Mizo Silver you see before you — featuring a sleek, striated texture along the body.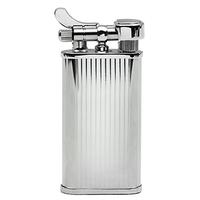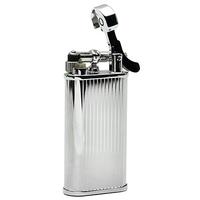 Customer Reviews (0)
Overall Rating: No reviews yet.