Lighters: Zippo Pipe Lighter Black
Product Number: 001-160-0094
Though originally inspired by an early 19th-century Austrian lighter that used brass shell-casings for the main body, with an external flint and striker, the simpler and more self-contained Zippo design has become an American icon known throughout the world (along with its distinctive, opening "clink!" and smart, closing "clunk!"), and especially so by outdoorsmen and military personnel. Even with the rise in popularity of wind-proof butane torch lighters, the simple, trusty Zippo remains a favourite for those who venture into the highest altitudes and coldest climates, where the Zippo design still proves itself to be the most reliable source for life-sustaining fire.

More recently, Zippo has adapted their unchanged-for-generations lighter design to make something a good deal more efficient for lighting a pipe. Initially released as an insert, then as complete lighters, this newer model features simple, but very useful change — both sides of the chimney have been opened up so that, when held sideways atop your bowl, a few puffs will draw the flame down to gently light your tobacco.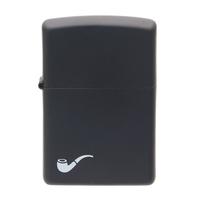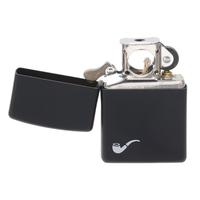 Customer Reviews (0)
Overall Rating: No reviews yet.